Sooner or later, everybody needs a makeover. Our last website overhaul was two years ago and it was great – but we were ready for an update. Our new website features a refreshed look and feel for viewing on smartphones and tablets, and we've also added a number of new project galleries to our new, sortable Portfolio section.
Over on our blog, you can find more of that, plus design ideas. And you can now more easily follow us on social media and get the latest updates on our projects.
We'd love to hear from you! Call us and mention this email before next Friday and your consulation will be free of charge (a $500 value).
Whatever your space is like, you should get maximum satisfaction out of it. If you're not, call us.
— SCOTT THOMAS
What We Do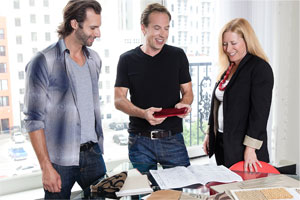 We take your space and make it better for you and for your people. Better-feeling, better-looking, and overall just better.
 We've produced stunning original designs for all styles of homes and workplaces from concept to design. Our roster of clients includes an impressive list of Hollywood insiders, aesthetically inclined homeowners throughout Los Angeles and Palm Springs, and such Los Angeles landmarks as the Hollywood Roosevelt Hotel and the Hyatt Group. We love taking on new projects and working with you to ensure that you're delighted with the space we've brought to life.
 Not sure what to do, or if you're even ready? We're easy to talk to. Call us and we'll talk.