We Find The Art That You Can't.
As a full service design firm, we not only plan and oversee the remodel of your home's structure but we also furnish your rooms with perfectly placed accents and art pieces. Don't tell anyone… but we LOVE this part of the job.
Being designers, we get exclusive access to amazing pieces of art that the general public never gets to see. One of our favorite places to get inspiration for artwork is at the LA Art Show (coming soon – January 14-18, 2015) – 200,000 square feet of the newest and hottest artists in the world, not to mention gallery exhibits from masters ranging from Monet to Warhol.
We spend several days at this industry event scouring high and low for the most dynamic and buzzed about paintings, sculptures and photographs so that when we need to call upon that perfect accent to a perfect room, we know exactly where to find it.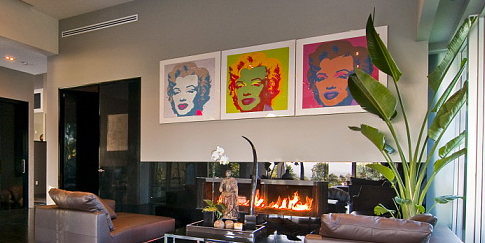 We work very simply in terms of incorporating artwork into our designs:
Research options that fit our client's taste and budget

Provide our clients with different looks and moods for their space – and when we provide looks, they'll all be killer (there will be no "wrong" choices)

Purchase chosen artwork utilizing industry connections.  It may take three weeks for us to find a few options for a given space, or three minutes – but whatever we present to our client will be wholly unique (not something your neighbor will have hanging on their wall) while also fitting seamlessly into the overall design of your home.
Let's talk art!
Now is a great time to start planning your spring remodel – let's chat soon so that I can start scouting for you at the LA Art Show in a few short weeks.